Drive to Freedom program: meet Graeme
We'd like to introduce you to our Drive to Freedom program, and one of our star volunteers: Graeme. 
Graeme has volunteered with us for many years now, helping four of our young people learn to drive and gain their licences. 
For many young people living in Out-of-Home care, accessing such important life skills are challenging at best. The Drive to Freedom program gives our young people a valuable life asset that opens doors to employment and independence. It also provides a young person access to a caring adult, with the aim of building life-long relationships.  
Graeme says he first joined our Drive to Freedom program after hearing about it from a friend. As he had taught his own four children to drive, he had a good understanding of what's involved and he wanted to help. "It's hard for young people without family or friends to find a driving teacher" he notes. 
Graeme and Cynthia 
One of Graeme's recent success stories is Cynthia. Graeme described Cynthia as a "very bubbly person, always laughing". 
Graeme spent a lot of time with Cynthia practicing for her driving test and helped her build her confidence. As part of his lessons, Graeme and Cynthia managed to squeeze in driving to various locations, for example visiting a hair extensions shop, or driving on the motorway to Bulli Lookout.  Graeme calls this "driving with a purpose". 
Graeme stuck by Cynthia when she paused her driving lessons due to her study and work commitments. He has remained in contact with Cynthia and is now an amazing male role model and a mentor in her life. Graeme was part of her journey when she graduated from Stepping Stone House as well as her nursing college graduation. 
Cynthia has since passed her driving test and has her own car. This enables her to get to her job in the disability sector.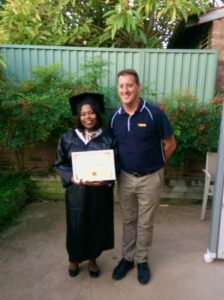 Cynthia and Graeme at her graduation from Stepping Stone House
The benefits of volunteering 
Speaking about the value he has gained from volunteering, Graeme says: 
"Being a Driving Mentor has given me the opportunity to meet people I might not have met otherwise, such as other volunteers and of course the young people. It has given me self- value and a sense of community sharing." 
Graeme would tell other potential Drive to Freedom volunteers that "it's a rewarding, fulfilling and fun program. Give it a go!" 
If you'd like to find out about our rewarding Volunteering program at SSH, read more here.