Focusing on FUN
At Stepping Stone House, we provide secure and safe accommodation for formerly homeless and disadvantaged children and young people. We also provide educational and developmental learning programs and pride ourselves on challenging our young people to be the best that they can be and fulfil their potential.
But there is another aspect of our organisation that isn't quite so rigorous and demanding, yet equally important. And that is our strong belief that young people need to be given the chance to be themselves in an inclusive and non-judgemental environment.
That's why, every year, for more than ten years, Stepping Stone House has been taking our children and young people on a Summer camp to give them some water-based experience and FUN.
At one point last year, we were close to cancelling the surf camp due to extensive rain and flooded campsites.
But two of our young people challenged us by explaining that they were ready for the camp no matter the weather. The kids had been taught to be resilient and to push through when things got a little tough. They were also quick to point out that they had never been on a family holiday, which demonstrates just how crucial these camps are. Needless to say, we headed out to Narrabeen Lake on the New South Wales coast and were the only people in the flooded campsite!
FUN as a developmental tool
We recently returned from our 2018 Summer Camp where our young people filled their schedule with camping, surf lessons, snorkelling, stand up paddle boarding and chilling out playing games. They also learned some life skills; cooking and cleaning for themselves and interacting with one another – all against a vibrant coastal backdrop.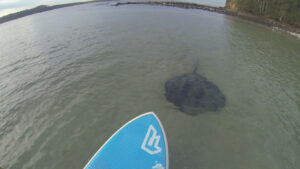 While it was certainly a relaxing time, the young people had to venture out of their comfort zones. On the way back, one of the vans broke down which was difficult for some of the young people to deal with – but it's certainly a great way to learn patience and empathy!
FUN and metrics
Learning through doing – and enjoying – is such a crucial part of growth and development and is an integral part of what we do at Stepping Stone House. This is not merely a theoretical concept – but one where the outcomes can be measured.
Thanks to the support of the Huber Social team, we have designed surveys and post-event reviews that evaluate our young people's experiences and wellbeing. Through these, we have seen an improvement in their wellbeing by 43 per cent over the last 12 months. Together with therapeutic care, these camps and our adventure education programs significantly contribute to and reinforce that. These metrics are also important not just for staff to see their efforts reflected, but also for donors who want to see improvement first-hand.
These FUN-focused initiatives – while not following specified parameters – inevitably link back with educational and developmental goals and have a direct benefit on mental wellbeing.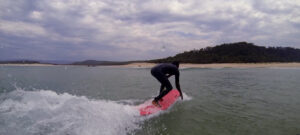 Making it happen
Fortunately, we are able to mobilise an amazing team of businesses, philanthropists and donors to make these invaluable camps happen. The surf lessons and boards were donated to us by former world surfing champion, Pam Burridge, while the stand-up paddleboards were donated to us by generous members of the Sydney SUP community. Even the food was donated by OzHarvest, and Bakers Delight while the vehicles and fuel were donated by the Goodman Foundation. All of this enabled us to focus on booking the right location, setting up the program and just having FUN.
In the end, because there is no pressure to do or perform, the summer camp becomes a relaxing family holiday – and those are the words that our young people have used.
Family, fun, and the freedom to be yourself is vital to all individuals – especially the disadvantaged and those living away from home. Which is why these FUN camps will continue for many years to come.